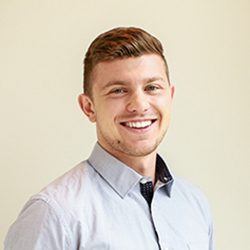 Chiropractor
Nate Andersen D.C.
Dr. Nate was born and raised a Midwesterner, growing up in the suburbs of Chicago. He received a B.S. in Human Physiology from the University of Iowa. He then went on to pursue and achieve his Doctorate in Chiropractic from Palmer College of Chiropractic.
After receiving his doctorate, Dr. Nate was selected for a highly sought-after position to practice in Southern California at one of the most prestigious and busiest chiropractic offices in the world. Here, he worked with a patient base that consisted of families, pregnant women, children, seniors, and numerous professional athletes.

Following his time in California, Dr. Nate and Dr. Kelsey realized that it was time to head home to the Midwest, specifically Madison.

"The people of Wisconsin are some of the most kind-hearted and genuine people in the country, and taking care of them is an absolute pleasure."

While we know Wisconsin is the best place on earth, one thing you may not know is: that Dr. Nate knows way too much about sharks! His favorite shark fact is that the Greenland Shark can live at least 250 years and some scientists say up to 400 years!

Although he is a chiropractor, his favorite genre of music isn't "pop." When he turns on the radio, you can expect to hear The Beatles. If The Beatles or oldies hits aren't playing, I'd put them on ASAP!

Dr. Nate also loves to cook, from fresh Greek chicken bowls to homemade pizza, you can find him experimenting in the kitchen with his new kitchen gadgets from Sur la Table. He believes the best recipe for complete wellness begins and ends with enjoying a nourishing meal (with a dash of chiropractic care on top)!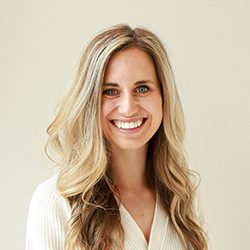 Physical Therapist
Kelsey Andersen D.P.T.
Dr. Kelsey completed her B.S. in Kinesiology at the University of Wisconsin - Madison then went on to obtain her Doctor of Physical Therapy Degree from St. Ambrose University in Davenport, IA.
Dr. Kelsey practiced as a travel physical therapist in the state of Iowa following graduation, then transitioned to outpatient orthopedic private practice in Southern California. She has completed additional training for scoliosis treatment, pain neuroscience education, and concussion management. Dr. Kelsey is very wellness-minded and takes an 'exercise-first approach' to give her patients the tools and knowledge that they need to not only recover from injuries but prevent them as well.

As an early bird, Dr. Kelsey always starts her day with a freshly made bed - it's the only way she can! As a wellness advocate, she would say making your bed in the morning is the first step toward a successful day.

If she could only eat one flavor combination for the rest of her life, it would be chocolate + peanut butter! That magical combo is the key to her heart, and if you're really looking to get to know Dr. Kelsey she's always ready to chat! Her friends and family would tell you she's one of the chattiest people they know, but we like to say she's just passionate about getting to know her 360 Wellness family!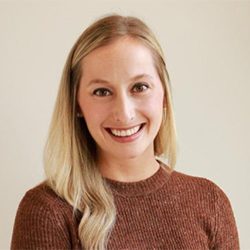 Business Development Manager
Lauren Hoeske
Lauren, our Business Development Manager, was born and raised in the Madison area and true lover of all things Wisconsin including the Badgers and of course, the cheese curds. Here at 360 Wellness Lauren oversees the daily office operations, community engagement, and outreach.
You'll often find Lauren enjoying a fresh cup of coffee. It's her love language and favorite part of the morning! She has also never met a dog she didn't like! If she absolutely had to choose a favorite kind of dog, it would be a Golden Retriever, which makes sense as she is just as outgoing and kind! Lauren has made many important decisions for us at 360 Wellness, with the most important being: that pineapple DOES belong on pizza. Try it for yourself and you'll understand!
OFFICE HOURS
---
Monday
9:00am - 11:30am
3:00pm - 6:00pm
---
Tuesday
3:00pm - 6:00pm
---
Wednesday
9:00am - 11:30am
3:00pm - 6:00pm
---
Thursday
3:00pm - 6:00pm
---
Friday
Closed
---
Saturday & Sunday
Closed